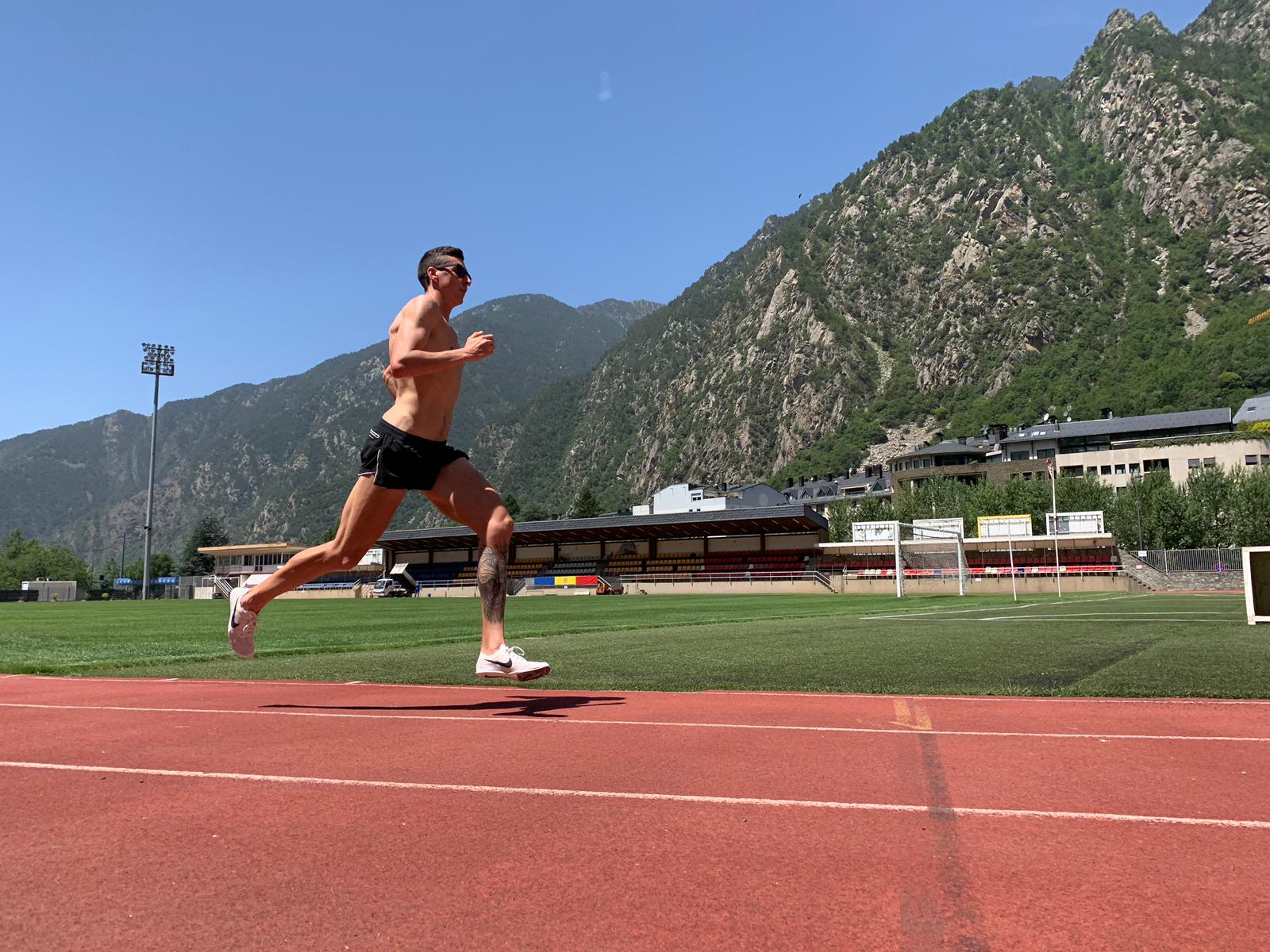 09 Aug

Font Romeu – Three Countries in One Day

Oh Andorra, you beautiful little gem. As one door closes another opens the saying goes. Meaning the track in Front Romeu is closed at the moment however, this opened the door to being able to explore other athletic tracks nearby. We went to Olot, in Spain last Tuesday but it was a little far. A five hour round trip isn't exactly great for the back, so we opted for another track in Andorra, which was only 75 minutes away.

I started my day with my usual routine of two slices of toast one with peanut butter and other strawberry jam and two to three cups of strong coffee. Just to put a little oomph in my step. And my 3 Xendurance tablets. Finally, got myself ready and got in the car and embarked on our way to Andorra.

So we set off around 8am for our track session and it was a beautiful day already. The temperature was at its highest since we've been at altitude, 25 degrees and it was only 8am, so we knew we were in for a toasty one today.

"Can't find the track on the sat nav." Adam says

"Aw I see Andorra isn't in France it's in Spain, switch the country. " I reply.

"Still can't find it." Adam and I are scratching our head.

"Oh, shit Andorra is a Country!" We both laughed. Every day is a school day.

A slight dumb and dumber moment.

Anyhow, about an hour later we cross the border and drive into something out of a Fast and Furious movie, Porsche's everywhere, long winding roads cutting through beautiful Forrest mountains with houses that looked like favelas staggered up the mountains. But the town was busy but quaint, fresh but industrial. It had a weird Mexican/ Hispanic vibe to it where people were looking at two lost white boys looking for an athletics track. Kinda scary at first but I think the locals were just interested in helping us lost puppies find what we were looking for.

We got to the track and we were blown away by how quiet and how beautiful the setting was. The track nestled in the foot of the mountains and as we went to warm up we ran alongside a great little riverside and adjacent to that was a track surface, it was an 800m straight on the other side of the river. As a runner this is pretty kool, a small little town having a half-mile stretch of track surface for people to run, walk and cycle on. It was pretty amazing coming from two athletes. It's sometimes these little things that really help you appreciate that certain towns or Countries appreciate an active lifestyle, Andorra definitely did enjoy their outdoor activities.

As we were about to start our session it must have been easily 35 degrees by now. There was no shade and lane 1 was super exposed, I made sure I had a lot of water with Xendurance Hydro-X and Maurten on stand by to keep me fueled and hydrated.

The session was 7×1200 with 400m jog recovery and as I neared rep 5 it must have now been 40 degrees, even the locals who were working at the side of the track were wiping sweat off of their heads and trying to offer us agua sin gas (still water) I politely declined as I was getting my head ready for the next rep.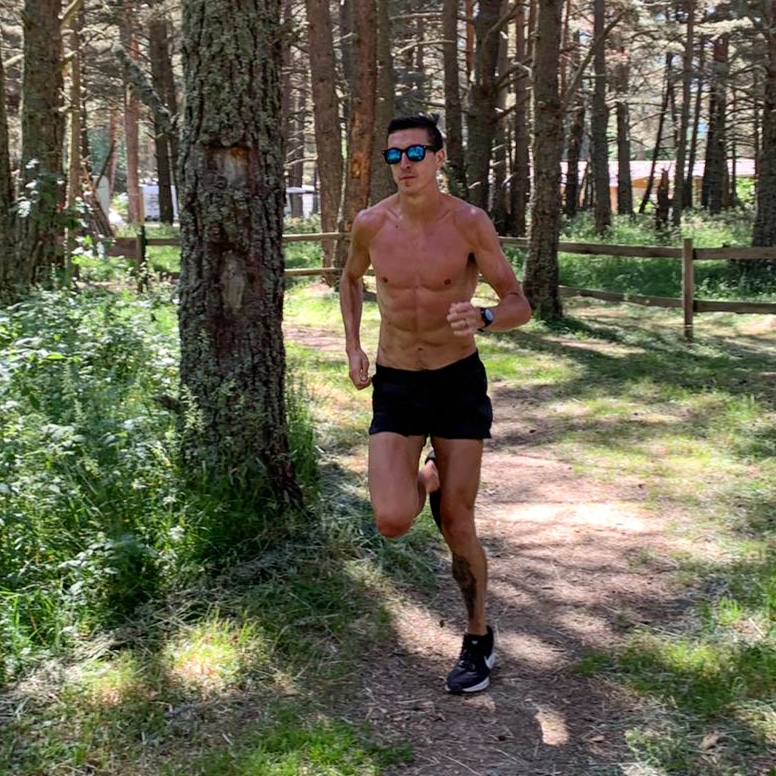 I done my first 4 in racing flats and then popped the spikes on for the last 3 just to get the calves and feet used to the different forces and impact they put through the body gearing up for the British Championships 10,000m race. I'm still on the fence with the spikes and may opt to wear the Nike Vaporfly 5% as they provide more cushioning for my feet, Achilles and calves to be able to recover from the race properly and bounce back into training properly. The last time I wore spikes in a 10k it took me 7-8 days for the calf and Achilles pain and stiffness to subside.
As you can see from the photos Andorra is a beautiful little diamond in the middle of Spain, which is a country just like Andorra! Haha.
As we finished up we went to a proper little local restaurant and got some paella and more coffee because hey what's life without coffee, when in Europe drink their coffee, it's bloody good.
Oh and lastly as we were crossing back over the border we got pulled over by the Spanish/Andorra/French police. We did look like two con-men tweedle Dee and tweedle dum.
"Can you step out the car sir?" I out a question mark there because I think it correct grammar but I'm sure he was telling me and not asking because if I had said no, I'm sure I would be in a Spanish prison with my back against the wall right now.
"Yeah sure." I replied.
"Have you any alcohol, drugs or narcotics sir?"
Well if I had said yes to that, maybe he was just looking for some goods for a party he was having that night.
"Nope, just athletics kit."
"Do you mind if I search your bags?"
He didn't wait for an answer the rude bastard just got tore in.
"Where are you going to? Do you have any money? Do you have cash?"
"Font Romeu, no and no"
"Okay, you can go."
I thought why the hell was he asking for cash for? Was he trying to mug us and send us on his way? I don't know, all I know is I thought it was pretty weird to ask if we had cash. But hey maybe you the reader will know why the Spanish border asks, I'm oblivious.
I hope you enjoyed my third post, I will post week 3 soon. Stay posted by signing up to the subscription list and you'll be notified when I release my next blog.
To follow my marathon journey on social media follow me on Instagram – @sean.fontana to stay tuned on daily training posts and updates of how the altitude camp is going.
For reading this blog I would like to offer you 20% off of my Xendurance supplements by going to – https://www.xendurance.eu and adding FONTANA20 to your coupon code. This is the brand I use to fuel my training because it is back by science and is fully WADA banned substance tested.